WRITING 101: TO PLOT OR NOT TO PLOT, THAT IS THE QUESTION.
A reader named Ramon Lopez has emailed me, asking what exactly, is the difference between a PLOTTED STORY and an UNPLOTTED STORY?
In his book, CREATING SHORT FICTION, author DAMON KNIGHT expounds the basic make-up of a plotted story where he retold the tale of a familiar conflict:
A man in a rooming house was in the habit of taking off his shoes at night and dropping them on the floor one at a time, with a pause for rumination in between. The lodger below had complained about this many times. One night, after dropping the first shoe, the man suddenly remembered the complaints and put the second shoe down gently.

After twenty minutes had passed, an agonized wail came up from the floor below: "For God's sake, drop the other shoe!"

In one way or another, every plotted story makes us wait for the other shoe to drop. We are waiting for the resolution of a conflict, or the solution to a puzzle, or the explanation of a mystery, or just the completion of a pattern, and it is this anticipation, as much as anything else, that makes us read on.
True enough, plotted stories make the readers anticipate what's going to happen next.
But, in an UNPLOTTED STORY, the readers WILL NEVER KNOW how the story will end. Therefore, the anticipation will be two-fold:
1. There seems to be no familiar indications as to what a reader will expect, and;
2. No definite clear-cut or familiar denoument that the reader could clutch and hang on to take him to the finale.
It is very apparent, therefore, that unplotted stories are less restrictive, less structured, and naturally – much more challenging to both the writer and his reader.
Though both forms have the same characteristics, and ingredients that as an author you must always remember to:
1. Give Someone to root for
2. Something of importance must depend on the outcome of the story
3. The story must contain a clear-cut Beginning, Middle and End
As an author, you must also not overlook to create an interesting main character (if possible, a sympathetic one), who faces obstacles he must overcome to achieve his desired goal. Or, in a nut shell: Desire, opposed by an obstacle, produces emotion.
We know as writers and readers that life means struggle. Yet, how do you, as a writer, achieve the greatest dramatic emotion?
Maximum intensity of desire
Opposed by
Maximum intensity of opposition
Produces
Maximum emotion

And what are the most distinct classifications to achieve this mission as a writer?
A. Obstacle between main character and the physical world
B. Obstacle between main character and another person
C. Obstacle between two desires within the same person
Does unplotted story then, work for the komiks?
Why not? I have done both in the 70s when I used to write komiks script for Atlas Publishing. For Ramon Lopez who emailed me inquiring about the possibilities of unplotted stories' possibility to work effectively in komiks, here's one example from the 1970s. I will also post a plotted one for you. It is an example of what I like to write, and that is: "A day in the life of…"
And a plotted story: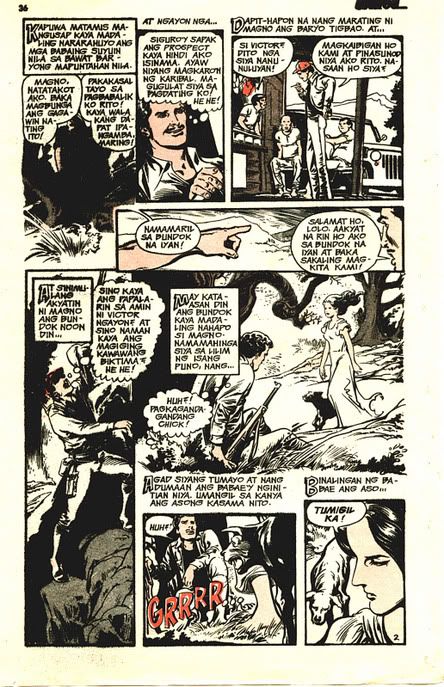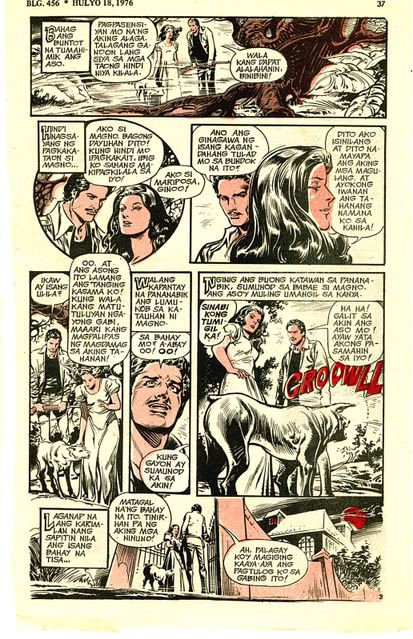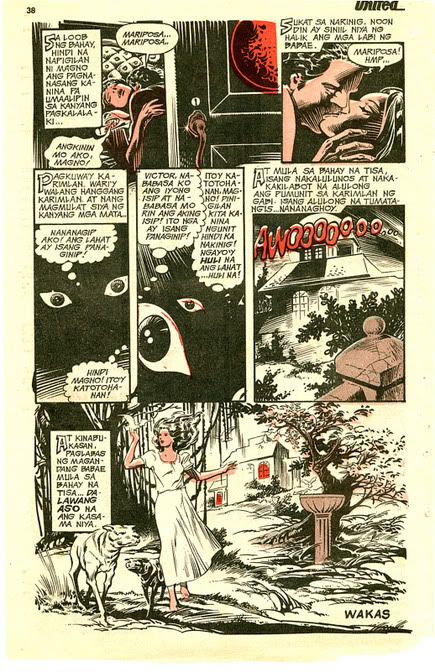 Ramon Lopez, as a new writer, you have your preference whether to plot or not to plot. It's all up to you, my son. If you want to write unplotted stories, I suggest you watch , for a starter, the film NASHVILLE by ROBERT ALTMAN. You'll be amazed how refreshing can an unplotted story be.
- Your Father Confessor